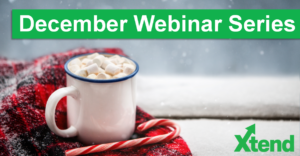 Coming Up This Week!
Each month, Xtend offers FREE webinars focused on lending, marketing, and member service; these engaging webinars provide credit unions with helpful products, services, and industry tips to give them the leading edge.
Wednesday, December 4
11:00 AM – 11:30 AM PT
Member Marketing Campaigns – Ideas for You!
Looking for inspiration for your marketing tactics in the upcoming quarter?  Let Xtend help!  We average about 25 campaigns per quarter and have ideas for you!  Let us show you what has worked well in the past, provide examples of available materials, and inspire your marketing efforts for the future.
Thursday, December 5
11:00 AM – 11:30 AM PT
Let's Put Our Mortgage Factory to Work!
Xtend and Lender*VP collaborate to make mortgage servicing and escrow processing a breeze for your credit union – put our knowledge and expert abilities to work!  We make it very easy for your credit union by providing services such as escrow processing and investor reporting.  Join us on December 5 to get started!