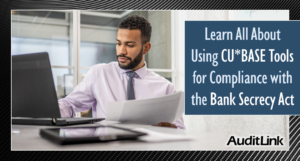 Complying with rules and guidelines imposed by the Bank Secrecy Act (BSA) can be a complicated task.  CU*BASE tools for monitoring transaction activity are designed to last through the complexities of these rule interpretations and the performance of due diligence on credit union accounts.
Do you have supervisory personnel who would like to learn more about the configurations and operation of CU*BASE tools for use in monitoring, evaluating, and reporting on events associated with BSA compliance?  Encourage them to register for our upcoming webinar!  During this session we will discuss:
BSA configurations for transaction types
Daily BSA monitoring
Transactions
Reports
Audit Trackers
Due-diligence analysis and tasks
And more!
Wednesday, August 2nd
3:00 PM – 4:00 PM ET