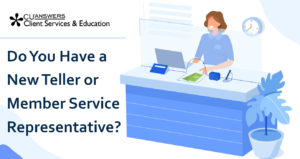 Join the Client Services and Education Team as we explore a day in the life of a Teller/Member Service Representative.  This course is geared toward new team members or current staff that would like a refresher in CU*BASE GOLD.  We will concentrate on the tools that help users answer various member inquiries relating to accounts and account history.  Also on the agenda will be the process of opening and closing a teller drawer, performing research for teller offages, as well as best practices for posting transactions and opening new memberships and accounts.
Participants will explore the following areas:
Member Services: Account Inquiry and Phone Operator
Teller Techniques
Transaction Reversals and Fees, Tools #30 and #31
Teller Best Practices and Teller Offage Research
Online University
Exercise for Success
Show Me the Steps
OnDemand Videos
Registering for Courses
Join us on Wednesday, August 23 from 1:00 PM – 5:00 PM ET.
These classes will not be covering credit union policy and procedures.  We highly recommend that participants also take the following online classes to be fully engaged with the subject matter:
CTM 200 Member Inquiry
CTM 201 Phone Operator
CTM 400 Teller Processing 1
CTM 401 Teller Processing 2