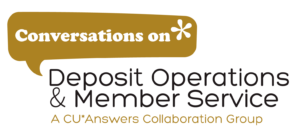 Earnings Edge invites you to join us for a Conversation on Deposit Operations & Member Service!  During our upcoming session, we will be hosting a conversation on the topic of ANR and NSF fees.  If you have ideas you would like to share, or if your credit union has done something unique with ANR or NSF fees, this is a great opportunity to voice your story.
Tuesday, August 29th
3:00 PM – 4:00 PM ET
What to stay connected on all our upcoming discussions related to Deposit Operations & Member Service?  Visit our online store to join our mailing list.

Interested in joining conversations about other topics?  Visit our website to view all of our current groups.