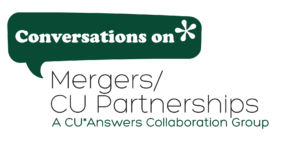 Join us for a conversation on Mergers and CU Partnerships!  Designed for clients who are considering mergers or strategic partnerships/alignments, this event will explore different merger options that are available and how involved parties will need to prepare.  Additionally, we'll share insights from clients who have previously participated in mergers.
This Conversations On Mergers/CU Partnerships session will explore automated and manual merger options, recommendations for preparing for a merger, as well as strategies for CU partnerships and product alignment.  Join the conversation – click the button below to register today!
Wednesday, September 20th
9:30 AM – 11:00 AM ET
Want to stay connected on all of our upcoming Conversations On Mergers/CU Partnerships topics?  Click here to visit us on the CU*Answers website and select the 'contact us' button.

Interested in joining conversations about other topics?  Visit our website to view all of our current groups.