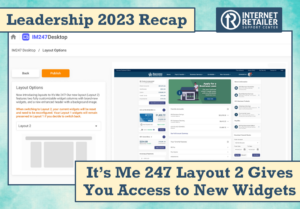 If you missed the 2023 CU*Answers Leadership Conference or want a convenient way to review materials discussed at this year's event, we've got you covered!  Today's hot topic comes from the Internet Retailer Support Center!
It's Me 247 Layout 2 gives your credit union access to new widgets within online banking – this includes the card control widget, account summary widget, loan widget, link widget, list widget and a download cleared checks widget.  It's Me 247 Layout 2 also introduces CU Publisher tiered pricing for self-service access, where pricing is dependent on your credit union's membership size.
Stay tuned for more highlights from the 2023 Leadership Conference!