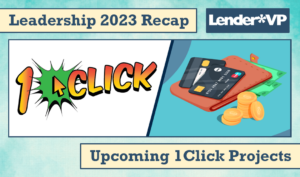 If you missed the 2023 CU*Answers Leadership Conference or want a convenient way to review materials discussed at this year's event, we've got you covered!  Today's hot topic comes from Lender*VP!
Are you looking to bolster your loan portfolio, replace fee revenue, or put loans on the books while also providing members with the ultimate convenience of internet solutions?  1-Click loan offers can be made from right inside of It's Me 247 online banking – your members simply need to click and accept!
We currently have several 1-Click loan offers available and have more projects coming soon, including:
Adding processing fees to APR calc
Adding e-signing to credit card offers
More e-sign forms per offer
And 1-Click Unfunded Loan Offers
If you'd like more information on our current 1-Click loan offers, click below to visit our online store.  Stay tuned for more details on the upcoming enhancements!
Stay tuned for more highlights from the 2023 Leadership Conference!