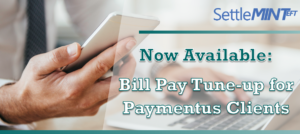 Attention Paymentus Bill Pay Credit Unions
Bill Pay Tune-up is now available for clients that use Paymentus (formerly Payveris) for their Bill Pay/P2P services.  This tune-up provides clients with a deep dive into Bill Pay configurations, limits, tools, reports, dashboards and more.  Each tune-up session will include time for questions and answers, while also detailing the resources/documentation your staff will need for assistance in completing daily tasks and member support.
Interested in learning more about our new Bill Pay Tune-up?  Click the button below to visit the SettleMINT EFT online store.
If you have any questions, please reach out to SettleMINT EFT.