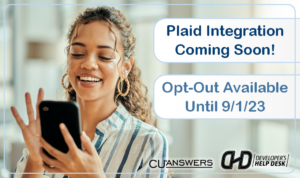 As announced at Leadership 2023, CU*Answers has completed an integration with Plaid, a service that connects user financial data with a variety of apps using a background data aggregation process. This integration allows member data to be made available within certain apps if a member chooses to link their credit union account. Learn more about the Plaid integration in the Kitchen.
Once live, this integration applies to all credit unions on our network unless an opt out is requested. If your credit union would like to opt out of the Plaid services integration, please review the opt out form and submit a completed copy no later than Friday, September 1st.
Remember: your credit union is automatically opted in for this service, unless an opt out form is received – you do not have to return this form unless you are electing to opt out.