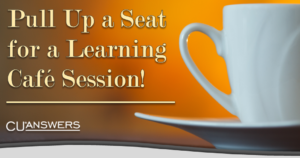 Join Linda Stearns, SettleMINT EFT Account Executive, for this month's Learning Café session!  Linda will lead a discussion on the benefits of utilizing an integrated P2P product.  A native and fully-integrated P2P product grants members the freedom to pay anyone, with a service that can be used in both It's Me 247 online banking and mobile web banking.
Interested in learning more?  Click the button below to register!
Wednesday, October 11
2:30 PM – 3:30 PM ET
Don't forget: CU*Answers web conferences are always free to attend!