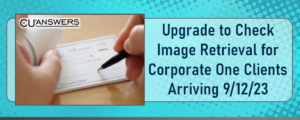 As previously announced, Corporate One is upgrading their check image retrieval process and all CU*Answers clients using Corporate One for their check image retrieval need to be migrated to the new, more secure certificate-based retrieval method.  All Corporate One credit unions will be moved to the new certificate-based retrieval method on Tuesday, September 12th around 9:00 AM ET.
This migration will be seamless to you and your members, with no member downtime.  Retrieval of check images will function exactly the same in both It's Me 247 Online Banking and CU*BASE GOLD.
If your credit union is interested in joining a Beta to test the new check image retrieval system prior to the September 12th migration, please reach out to Jason.lareau@cuanswers.com.