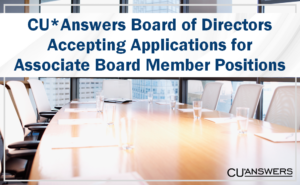 ATTENTION CEOS OF CU*ANSWERS OWNER CREDIT UNIONS
The lifeblood of any cooperative is the active owner. Cooperatives rely on owners who are active not just as consumers of the cooperative's products and services, but also as owners with a passion for ensuring the cooperative is the type of organization they want to own. As such, the CU*Answers Board of Directors is excited to announce that it is now accepting applications for its Associate Board Member program.
The candidate selected during the October 2023 board meeting will begin a two-year term in January 2024. Associate board members participate as non-voting members in the boardroom, lending their voice to the CUSO's governance, taking on special assignments, and filling vacancies between election cycles.
Where Do I Apply?
To apply, visit https://www.cuanswers.com/about/leadership/associate-board/.
What Are the Qualifications to Serve?
Associate Board Members are subject to the same requirements as regular Board members, as described in the current Board Member Handbook. In addition, candidates must meet all of the following qualifications:
Applicants must either be the CEO or equivalent of a current CU*Answers stockholder credit union.
For the organization to qualify as a CU*Answers stockholder, the organization must own stock and have been an active core processing client for at least one year.
Applicants must agree to abide by rules and responsibilities of a CU*Answers Board Member as outlined in the Board Member Handbook.
Applicants must be willing to travel and participate in in-person meetings, conference calls, and special events or other meetings.
What is the Deadline to Apply?
Applications must be submitted by August 10, 2023.