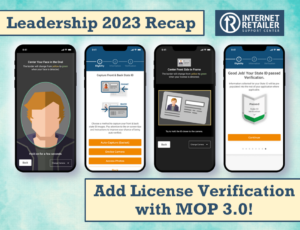 If you missed the 2023 CU*Answers Leadership Conference or want a convenient way to review materials discussed at this year's event, we've got you covered!  Today's hot topic comes from the Internet Retailer Support Center!
Did you know that you can add the new license verification tool into your credit union's MAP or MOP site?  With this service, members will be asked to take a selfie, as well as an image of the front and back of their driver's license that will be submitted for verification – this acts as a fraud deterrence tool that can be used for your potential members.
Want to learn more about MOP 3.0?  Click here to view our online brochure.  Or, if you're interested in placing an order for your credit union, click the button below to visit our store.
Stay tuned for more highlights from the 2023 Leadership Conference!