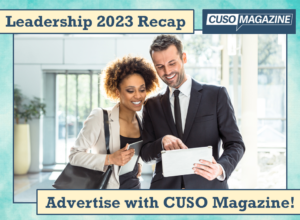 If you missed the 2023 CU*Answers Leadership Conference or want a convenient way to review materials discussed at this year's event, we've got you covered!  Today's hot topic comes from CUSO Magazine!
CUSO Magazine is a publication that is tailored around delivering relevant, timely, credit union-related content to a niche audience of leaders in the industry.  From solutions to granular technical problems to big-picture industry theories, CUSO Magazine has you covered with articles written by seasoned veteran leaders in their fields of expertise.
CUSO Magazine offers three different advertising platforms – on our digital site, in our weekly subscriber email, and in our print editions.  If you'd like to see CUSO Magazine's full media kit or are interested in advertising with us, please email us at editors@cusomag.com or click the button below to visit the CUSO Magazine website!
Stay tuned for more highlights from the 2023 Leadership Conference!