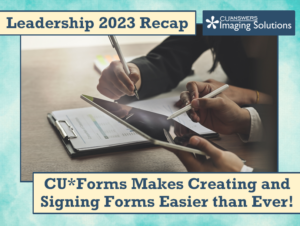 If you missed the 2023 CU*Answers Leadership Conference or want a convenient way to review materials discussed at this year's event, we've got you covered!  Today's hot topic comes from the Imaging Solutions team!
Creating general membership forms and getting them signed is easier than ever with CU*Forms!  CU*Forms is a web application that allows credit unions to build their very own membership form templates, which staff can use to prepare documents for signing.  Once documents are prepared, members may sign with Topaz signature pads and/or eDOCSignature' s eSign.  The template creator has access to over 150 CU*BASE data points for general membership data like account, SSN, first name, last name, and address to automatically fill forms.
Want to order CU*Forms for your credit union?  Click below to visit our online store today!
We also have two videos available, which detail how to use and sign a form, as well as how to build a template with CU*Forms.  Check out these videos below.
Video: How to Use and Sign a Form
Video: How to Build a Template
Stay tuned for more highlights from the 2023 Leadership Conference!