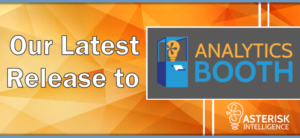 The Asterisk Intelligence Team is excited to present the AB_23.06 Analytics Booth Release, arriving to Analytics Booth subscribers on Sunday, June 25th!  This release features:
A revamped Trends homepage, with a more data-driven look and methodology
Category cards for all data point collections; balance data, cash data, and all the rest
Enhancements to 'Learn from a Peer'
And more!
Learn More About the Analytics Booth Release
Join the Asterisk Intelligence Team for a release review.  We will discuss these new features, and how they can be integrated into your daily operations to improve your data-driven strategies!  Join us for one of two review sessions – select your preferred date and time from the registration page via the button below.
Wednesday, June 14
3:00 PM – 4:00 PM ET
Thursday, June 28
3:00 PM – 4:00 PM ET